Identity & Purpose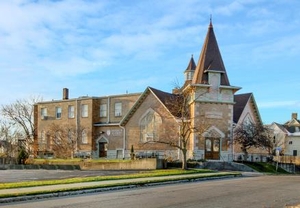 Founded in 1998, Dominion Academy of Dayton is a classical Christian school providing a college preparatory education based on the Bible, reason, and Tradition. We are a chartered nonpublic (private) school, which enables us to accept EdChoice Scholarships for eligible students.
Dominion Academy of Dayton is a classical Christian school providing a college preparatory education based on the Bible, reason, and tradition. We strive to be an academic community which prizes learning well in order to love well.
Christian: While rooted in Anglicanism as a ministry of Christ the King Anglican Church, our students and teachers come from many other Christian traditions– Anglican, Reformed, Roman Catholic, Evangelical, and Eastern Orthodox. Unified by our common love for the Lord and commitment to creedal essentials, we strive to faithfully pass on the Christian intellectual tradition to the next generation.
Classical: The classical vision is summed up in a proper love of the True, the Good, and the Beautiful. It is a well-balanced education oriented around cultivating wisdom and virtue. Our students are rooted in the liberal arts, learning in dialogue with primary sources and the great ideas of western and non-western civilization. We believe that a classical education dynamically trains a student's character and imagination for the challenges of the future.
College-Preparatory: Since history's great ideas should naturally lead to engaging with today's opportunities, we are relentlessly practical and use our experience to prepare students for life after high school. Our PSAT, ACT, and SAT scores are consistently very high, due to rigorous test preparation and teachers who guide students according to their individual needs. Our collegiate-model schedule encourages student initiative and builds self discipline. Between 2012 and 2014, 20 out of our 35 graduates received full tuition scholarships to the colleges they chose to attend.
History

FOUNDERS

Dominion Academy of Dayton was founded in 1998 by Fr. Wayne and Sandy McNamara as a ministry of Christ the King Anglican Church. Both Sandy & Wayne were Bowling Green State University graduates of education. While homeschooling their oldest children, they saw the need for a structured approach to college preparatory studies that still fostered family life and parental involvement.When their oldest daughter entered 8th grade, they founded Dominion Academy, choosing a collegiate model schedule that allowed for flexibility according to the individual family's need. In their many current roles at Dominion Academy, the McNamaras continue to encourage and help sustain their original vision of integrating academic and family life.

NAME

Our founders chose to name the school "Dominion Academy" out of the conviction that God has given Christian the humbling role of "kings and priests" of all of Creation. Proper "dominion" is not a matter of subjugation or oppression, but of a loving, faithful, and wise stewardship over all things for the glory of God. In order to be faithful stewards, Christians must learn about the true shape of the world— a world existing in Christ, according to the order of the Trinitarian community; Christians must learn well in order to love well. Dominion Academy exists in order to educate young Christians about the shape of the world in Christ and to encourage these students to properly love creation, understanding that all ultimate meaning is found in Christ alone.

LOCATION

We are located in the building of Christ the King Anglican Church, just north of downtown Dayton at 925 North Main Street. The church was built in 1901 by the United Methodists and it has a history of being a community center for the surrounding area. During the great Dayton Flood of 1913, people took refuge in the building as a high point where the flood waters couldn't reach. While we do not have cutting edge facilities or a particularly scenic locale, we believe that the church, and consequently the school, have been placed by God in our specific neighborhood to love and serve and be a life-giving influence.